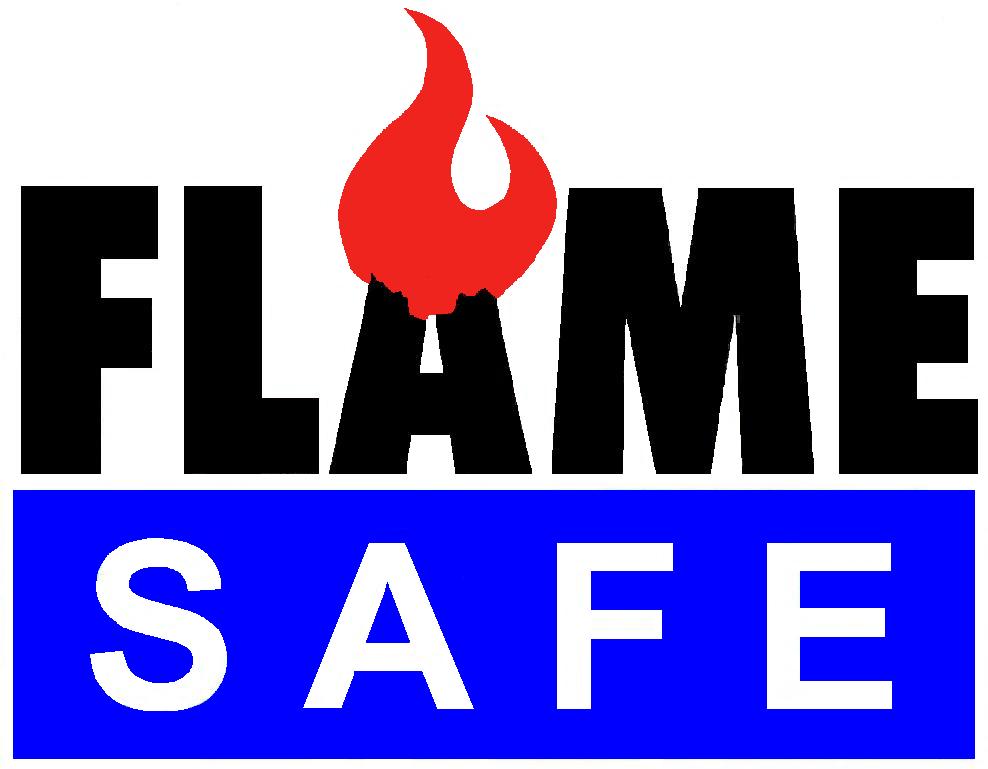 1-800-333-9197 - Fire retardant for Christmas trees - flameprooftrees.com
Fire retardant spray on coating for Christmas trees, dry grass, brush, hay, bales, straw, Wildfire Protection
flame-safe.com - flamesafeusa.com - flamesafe.info
2653 Warfield Ave., Ft. Worth, TX 76106

Information Hotline: 1-800-333-9197

Ph: 817-740-9197 email: fireprod@aol.com

Fire Retardant Coatings
Flame Safe's Tree Safe flame retardant is quick and easy to apply. A water based clear fire retardant, Tree Safe is odorless, colorless, non-toxic, and environmentally friendly. When applied to Christmas trees, Tree Safe fire retardant also acts as a preservative keeping the needles of the tree greener for a longer period of time.

Needles are not absorbent so you must completely coat all needles of the tree. Be sure to thoroughly wet and saturate to the point of dripping.

After spraying pour the remainder of Tree Safe contents into the stand reservoir. Allow ample time to dry before decorating the tree.

For optimum results do not leave the tree outside during the drying process, rain has a tendency to diminish the effectiveness of Tree Safe. When properly applied Tree Safe will provide long term fire protection. In addition to Tree Safe's fire retardant qualities, Tree Safe acts as a preserver keeping the needles of the tree greener for a longer period of time.
BE
SAFE

-

LIVE

SAFE

-

SAFE
Enjoy the holiday season and the rich aroma of live Christmas trees
One quart will fire retard an 5' - 6' tree (fir, spruce, pine, cedar). Do Not dilute or mix Tree Safe with any other products. Spray Christmas tree with a mist applicator, starting at the top spraying all foliage and branches. Saturate to the point of dripping. Allow tree to dry indoors or in a covered area. Tree Safe is insoluable when dry. Tree Safe is applied with a sprayer, included with quart bottles. Be sure the surface is dry before application. Treat all surfaces.Be sure to spray the underside of branches. One quart will treat most 5' trees.
When sprayed on dry grass and brush, Flame Safe's Tree Safe flame retardant will slow or stop the advance of the flame front caused by winds in areas of exceptionally low humidity.
| | |
| --- | --- |
| Wildfires are fueled by dried trees, leaves, brush and grasses. They create tinderbox like conditions. In hot dry weather conditions, even the slightest wind adds to the destruction. Save your home, save your business, but most importantly save your life and the life of your loved ones. | |
For wildfire protection, Tree Safe is applied with sprayer. Be sure the surface is dry before application. One gallon will cover 200 to 300 square feet depending on conditions. Available in quarts, gallons, 5-gallon pails and 55-gallon drums.
Three components are necessary for fire: fuel, oxygen, and a source of ignition. Although you need to eliminate only one of these three components to extinguish a fire, Tree Safe fire retardant produces outstanding results by eliminating two of these components.
Tree Safe fire retardant automatically reacts with fire or heat and converts combustible gases and tars to non-combustible carbon char. This chemical reaction substantially increases carbon char and creates an intumescing action, causing the surface to bubble-up, thereby creating a barrier between the fire and the treated material. The nitrogen produced as a by-product of the bubbling-up action displaces the oxygen and assists in smothering the fire. The intumescing action separates the fuel from the source of ignition. Tree Safe fire retardant treated materials produce significantly less smoke generation, in many cases by more than 50%.
Material Safety Data Sheet (MSDS)
PRODUCT ANALYSIS

Total Solids
27%
Ph
3.5 - 5.2
Weight per gallon
9.40 lbs
Flash point
Non-flammable
Specific gravity
1.104
Color
Water clear at 78°F. - slight haze at 50°F. And lower
Volatibility
Non-volatile
Solvents
Water (contains no petroleum or derivatives of petroleum.)
Anti-Fungus
Excellent resistance
Bacterial
Good resistance
Linear shrinkage
None
Moisture absorption
None
Corrosive
None
Toxic
None
Insects, rodents, aspergilli And other types of molds
Excellent resistance
Termites
Excellent resistance
Preservative for wood
Good
Not harmful to plants or animals
Manufactured by
Flame Safe Chemical Corporation
Flame Safe Manufactures the most effective fire retardants available
Fire Poly™ 100
Fire Poly™ 75I
Fire Poly™ 75E
Fire Poly™ 50
Fire Poly™ FPCC
Wood Safe
Fabric Safe
Shingle Safe™
Thatch Safe™
Tree Safe
Paper Safe

Fire Buster™

Fire and Flame Retardants save property and lives
Fight the danger of fire in your home or business
Some keepsakes cannot be replaced

Flame Safe fire retardants have met the standards of
major third party testing agencies
test results available at
Flame Safe Chemical Products page

Environmentally Safe

Flammable materials may be fire retarded without changing their appearance

As demonstrated on the national television show
"That's Incredible"

Flame Safe Chemical Corporation
has both interior and exterior fire and flame retardant coatings, penetrants, and sprays for:
wood, wood products, lumber, plywood, wood shingles, timbers & timbers, fiberglass & plastics, textiles,fabric, canvas tents, wall coverings,
tiki hut thatch & thatching, paper & cardboard.


Interior Fire Retardant Treated Lumber
Plywood
Timbers
Exterior Fire Retardant Treated Lumber
Plywood
Timber
Fire Retardant Treated
OSB
and
Special Orders
The information contained herein is the property of Fire Prevention Technologies d/b/a Flame Safe Chemical Corporation and Flame Safe Wood Products, Inc,
Montgomery,Alabama; Birmingham, AL; Huntsville, Alabama; Mobile, Alabama; Tuscaloosa, AL; Anchorage, Alaska; Fairbanks, Alaska; Kodiak, Alaska; Juneau, Alaska; Flagstaff, Arizona; Grand Canyon, AZ; Phoenix, Arizona; Tuscan, Arizona; Yuma, AZ; Camden, AR; Little Rock,Arkansas; Fayetteville, Arkansas; Fort Smith, Arkansas; Texarkana; AR; Anaheim, California; Bakersfield, CA; Bishop, CA; Fresno, CA; Irvine, CA; Long Beach, California; Los Angeles, CaliTallahassee, fornia; Oakland, CA; Modesto, CA; Monterey, CA; Oakland, California; Oxnard, CA; Palm Springs, CA; Pasedena, California; Redding, CA; San Diego, CA; Sacramento, California; San Francisco, California; San Jose, CA; Santa Barbara, California; South Lake Tahoe, CA; Stockton, California; Aspen, Colorado; Denver,Colorado Colorado Springs, Colorado; Durango, CO; Fort Collins, CO; Grand Junction, CO; Gunnison, Colorado; Lamar, CO; Montrose, Colorado; Pueblo, CO; Steamboat Springs, CO; Telluride, Colorado; Bridgeport, CT; New Haven, Connecticut; New London, CT; Hartford,Connecticut; Dover, Delaware; Wilmington, Delaware; Washington DC; Daytona Beach, Florida; Fort Lauderdale, FL; Fort Meyers, Florida, Fort Walton Beach, FL; Gainesville, Florida; Jacksonville, FL; Key West, Florida; Melbourne, FL; Miami, Florida; Naples, FL; Orlando, Florida; Panama City, FL; Pensacola, Florida; St. Petersburg, FL; Sanford, FL; Sarasota, Florida; Tallahassee, Florida; Tampa, Fl; West Palm Beach, Florida; Clearwater, Fl; South Beach, FL; Albany, GA; Athens, Georgia; Atlanta, Georgia; Augusta, Georgia; Columbus, GA; Macon, Georgia; Savannah, Georgia; Valdosta, GA; Hilo, HI; Honolulu, Hawaii, Hoolehua, Hawaii; Kahului. HI; Kaailua Kona, HI; Kamuela, Hawaii, Kapalua, Hawaii; Lanai City, HI; Lihue, HI; Princeville, Hawaii; Boise, Idaho; Coeur d'Alene, Idaho; Idaho Falls, Idaho; Lewiston, ID; Sun Valley, Idaho; Twin Falls, Idaho; Aurora, IL; Bloomington, IL; Champaign, Illinois; Chicago, Illinois; Danville, IL; Marion, Illinois; Marion, Illinois; Mount Vernon, IL; Peoria, Illinois; Quincy, IL; Rockford, IL; Springfield, Illinois, Sterling, IL; Wheeling, Illinois; Bloomington, Indiana, Butler, IN; Evansville, Indiana; Fort Wayne, IN; Gary, Indiana; Indianapolis, Indiana; Lafayette, IN; South Bend, Indiana; Terre Haute, Indiana; Burlington, Iowa; Cedar Rapids, Iowa; Des Moines. Iowa; Dubuque, Iowa; Fort Dodge, Iowa; Mason City, IA; Mason City, IA; Sioux City, Iowa; Waterloo, Iowa; Dodge City, Kansas; Garden City, KS; Great Bend, KS; Hays, Kansas; Manhattan, Kansas; Salina, Kansas; Topeka, Kansas, Wichita, KS; Kansas City, Kansas; Lexington, Kentucky; Louisville, Kentucky; Owensboro, KY; Paducah, KY; Alexandria, LA; Baton Rouge, Louisiana; Lafayette, Louisiana; Lake Charles, LA; Monroe, LA; New Orleans, Louisiana; Shreveport, Louisiana; Augusta, Maine; Bangor, Maine; Bar Harbor, ME, Portland, Maine; Rockland, Maine; Annapolis, Maryland; Baltimore, Maryland; Cumberland, MD, Hagerstown, MD; Ocean City, Maryland; Salisbury, MD; Boston, Massachusetts; Edgartown, MA; Hyannis, Massachusetts, Hyannis, MA Lawrence, MA; Nantucket, Massachusetts;New Bedford, MA; Plymouth, MA; Massachusetts; Providence, Massachusetts; Springfield, MA; Worcester, Massachusetts; Battle Creek, Michigan; Detroit, Michigan; Flint, Michigan; Grand Rapids, hancock, Iron Mountain, Kalamazoo, Lansing, Marquette, Menominee, Muskegon, Pellston, Pontiac, Saginaw, Traverse City, Michigan; Bemidji, Minnesota; Brainerd, Duluth, Fairmont Fergua, Grand Rapids, Hibbing, International Falls, Minneapolis, Minnesota; Rochester, Thief River Falls, Minnesota; Columbus, Mississippi; Corinth, Greenville, Gulfport, Jackson, Mississippi; Laurel, Meridian, Tupelo, Mississippi; Cape Girardeau, Missouri; Columbia, Joplin, Kansas City, Missouri; Kirksville, St Louis, Missouri; Springfield, Missouri; Billings, MT; Bozeman, MT; Butte, Montana, Glasgow, MT; Great Falls, Montana; Helena, Montana, Kalispell, MT; Lewistown, MT; Miles City, Montana; Missoula, Montana; West Yellowstone, Montana; Wolf Point, MT; Allaince, Nebraska; Chadron, Grand Island, Nebraska; Hastings, Kearney, Lincoln, Nebraska; Norfolk, North Platte, NE; Omaha, Nebraska; Scottsbluff, NE; Sidney, Nebraska; Elko, Nevada; Ely, NV; Las Vegas, Nevada; Reno, NV; Keene, New Hampshire; Laconia, NH; Lebanon, New Hampshire; Manchester, New Hampshire; Atlantic City, New Jersey; Newark, NJ; Trenton, New Jersey; Albuquerque, New Mexico; Carlsbad, NM, Clovis, New Mexico; Farmington, New Mexico, Gallup, NM; Los Alamos, NM; Roswell, New Mexico, Santa Fe, New Mexico; Albany, New York;, Buffalo, Inslip, New York; Ithaca, NY; Jamestown, New York, Long Island City, NY, New york, New York, Niagara Falls, NY; Plattsburgh, NY; Rochester, NY, Syracuse, New York; Utica, New York, Watertown, NY; White Plains, New York; Charlotte, North Carolina, Fayetteville, NC; Greensboro, North Caroling; Jacksonville, NC; Kinston, NC; Mante, NC; Pinehurst, NC; Raleigh, North Carolina; Wilmington, North Carolina; Winston-Salem, North Carolina; Bismarck, North Dakota; Fargo, ND; Grand Forks, ND; Jamestown, North Dakota; Minot, ND; Williston, North Dakota; Akron, Ohio, Cincinnati, Ohio; Cleveland, OH; Columbus, Ohio; Dayton, Ohio, Toledo, OH; Wilmington, OH, Youngstown, Ohio; Enid, Oklahoma; Lawton, OK; McAlester, OK; Oklahoma City, Oklahoma; Ponca City, OK; Tulsa, Oklahoma; Eugene, Oregon; Klamath Falls, Oregon, Medford, North Bend, Pendletoon, Portland, Oregon; Redmond, OR; Salem, Oregon; Allentown, Pennsylvania; Bradford, PA; Du Bois, PA; Erie, Pennsylvania; Franklin, PA; Harrisburg, PA; Lancaster, PA; Philadelphia, Pennsylvania; Pittsburg, PA, Reading, PA, Williamsport, Pennsylvania; Block Island, Rhode Island; ; Providence, RI; Westerly, Rhode Island; Anderson, South Carolina; Charleston, South Carolina; Columbia, South Carolina; Florence, SC; Greenville, SC; Hilton Head Island, SC; Myrtle Beach, South Carolina; Aberdeen, South Dakota; Brookings, SD; Huron, South Dakota; Rapid City, SD; Sioux Falls, South Dakota; Watertown, SD; Chattanooga, Tennessee; Jackson, TN; Knoxville, Tennessee;, Memphis, Tennessee; Nashville, Tennessee; Abilene, Texas,Amarillo, TX; Austin, Texas; Beaumont, TX; Brownsville, Texas; College Station, TX; Corpus Christi, Texas; Dallas, El Paso, TX; Fort Worth, Texas; Houston, Texas; Killeen, TX; Laredo, TX; Longview, Texas; Lubbock, TX; Lufkin, TX; McAllen, TX; Midland, Texas, Odessa, TX; Paris, Texas; San Angelo, TX; San Antonio, Texas; Tyler, TX; Waco, Texas; Wichita Falls, Texas; Blanding Utah; Cedar City, Utah; Delta, UT; Fillmore, UT; Kanab, UT; Milford, UT; Monticello, Utah; Mount Pleasant, Utah; Nephi, UT; Price, UT; Richfield, UT; Roosevelt, Utah; St. George, Utah; Salina, UT; Salt Lake City, Utah; Wendover, Utah; Burlington, Vermont; Rutland, Vermont; Charlottesville, Virginia; Danville, VA; Hot Springs, VA; Lynchburg, Virginia; Newport News, Virginia; Richmond, VA; Roanoke, Virginia; Anacores, Washington; Bellingham, WA; Center Island, WA; DEcatur, Washington. Eastsound, WA; Friday Harbor, WA, Kenmore, W, Lopez, Washington; Moses Lake, Washington; Oak Harbor, Port Angeles, Washington; Richland, WA; Roche Harbor, WA; Seattle, Washington; Spokane, Washington; Stuart Island, WA; Waldron, WA; Walla Walla, Washington; West Sound, Washington, Yakima, Washington; Beckley, West Virginia; Bluefield, WV; Charleston, WV; Clarksburg, West Virginia; Elkins, WV; Greenbriar, WV; Huntington, West Virginia; Morgantown, West Virginia; Parkersburg, West Virginia; Appleton, Wisconsin; Eagle River, Eau Claire, Wisconsin; Green Bay, Wisconsin, Janesville, LaCrosse, Wisconsin; Madison, Wisconsin; Milwaukee, Wisconsin. Oshkosh, Wisconsin; Rhinelander, Wisconsin; Sturgeon, Wisconsin; Wausau, Wisconsin; Casper Wyoming; Cheyenne, Wyoming; Cody, WY; Gillette, WY; Jackson, Wyoming; Laramie, WY; Riverton, WY; Rock Springs, Wyoming; Sheridan, Wyoming; Worland, Wyoming; Nassau, Bahamas; San Juan, Puerto Rico; Charlotte Amalie, Virgin Islands; St. Thomas; St. Croix; Edmonton, Alberta, Canada; Victoria, British Columbia, Canada; Winnipeg, Manitoba, Canada; Fredericton, New Brunswick, Canada; Saint John's Newfoundland, Canada; Yellowknife, Northwest Territories, Canada; Halifax, Nova Scotia, Canada; London, Ottawa, Toronto, Ontario, Canada; Charlottetown, Prince Edward Island, Canada; Montreal, Quebec, Canada; Regina, Saskatchewan, Canada; Whitehorse, Yukon, Canada.Canada; Whithorse, Yukon, Canada.